Sarma-Style Soup
Matt Sinclair
Serves: 6
500g Sauerkraut
200g speck, chopped
350ml Passata
1 Tbsp paprika
Salt and pepper
Meatballs:
500g beef mince
500g pork mince
½ cup uncooked rice
1 Tbsp paprika
½ bunch parsley, chopped
100g speck, finely chopped
Salt and pepper
Combine the ingredients for the meatballs in a large mixing bowl and season to taste with salt and pepper. Form into balls using wet hands, approximately 1/3 of a cup in size.
Line the bottom of a large stock pot with about 1/3 of the sauerkraut and top with the chopped speck followed by a bit more sauerkraut to make an even base. Pack the meatballs in, leaving a little bit of room around each. If you need more than 1 layer of meatballs, put a little bit of sauerkraut between them to avoid them sticking together. Cover them with water, about 1cm above the meatballs.
Add in the passata and paprika, season with salt and pepper and stir the top layer of sauce as carefully as you can to combine. Place the lid on and bring to a light boil. Reduce the heat to a simmer and cook for about 2 hours. Taste and adjust seasoning if required. Serve with crusty buttered bread.
Note: Cooking time can be reduced to an hour by adding about 3 tsp of baking soda in the meatball mixture. This will make sure they are nice and soft.
Our friends at Wine Selectors suggest pairing this dish with a Grenache Shiraz Mataro blends.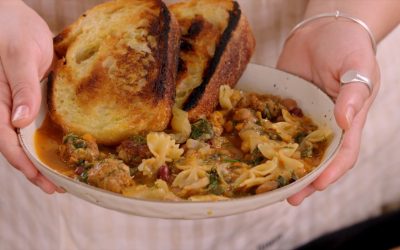 Ingredients: 4 Spicy Italian Sausages Packet of Farfalle Pasta 1 Leek 1 Carrot 1 Onion 2 Garlic 2 cups Shredded Cabbage 1 Chopped Silver Beet 1 400gm Tinned Beans 1 tsp Cumin powder 1 tsp Coriander  powder 1tsp Paprika powder 2 tbsp Tomato Paste Stock of your choice...