Silken Tofu with Chilli and Spring Onion
Matt Sinclair
Serves: 4
250g soft tofu, drained
2 Tbsp light soy sauce
1/3 cup peanut oil
3 spring onions, finely sliced
2cm piece ginger, grated
1 green chilli, finely sliced
1 tsp sesame oil
Salt
White pepper
2 tsp toasted sesame seeds
1 Tbsp crispy shallots
Thinly slice the tofu using a sharp knife and fan out across a serving plate and drizzle the soy sauce over the top.
Heat the peanut oil in a small saucepan over a medium-high heat until it shimmers.
Meanwhile, combine the spring onions, ginger and green chilli in a heat-proof bowl and season with the sesame oil. Carefully and slowly pour the hot peanut oil over the ingredients and mix well to coat evenly. Season to taste with salt and white pepper and scatter over the top of the tofu.
Garnish with the sesame seeds and crispy shallots.
Our friends at Wine Selectors suggest pairing this dish with a Pinot Gris.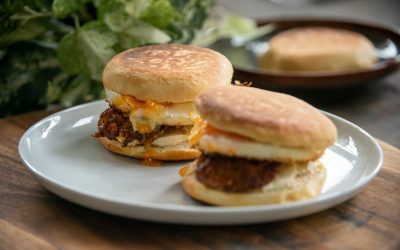 Ingredients: 300ml milk, plus extra 7g sachet of dried yeast 25g white caster sugar 50g shortening or lard 425g plain flour, plus extra 20g polenta, optional Unsalted butter Method: Gently warm the milk in a pan until lukewarm or body temperature, 37ºC. Add the yeast...