Sticky Ginger-Soy Chicken Wings
Matt Sinclair
Serves: 2-4
2 kg chicken wings
2 Tbsp. sesame seeds
2 spring onions, finely sliced
1/2 cup coriander, roughly chopped
Marinade:
1/2 cup sweet chilli sauce
2 tbsp. soy sauce
2 tsp. sesame oil
3 cloves garlic, grated
1 inch piece ginger, grated
1-2 tbsp. ground chilli flakes
Preheat the oven to 170C.
Remove the wing tips, split the chicken wings at the joint and spread out on a baking tray.
In a bowl add the marinade ingredients and mix to combine. Adjust ground chilli flakes to preferred taste and spice level.
Pour marinade over prepared chicken wings and massage to coat wings evenly. Place in the oven for 40 minutes. Turn the oven to 220C for a final 10 minutes to caramelise.
Garnish wings with a sprinkling of sesame seeds, spring onion and chopped coriander.
Our friends at Wine Selectors suggest pairing this dish with a Pinot Noir.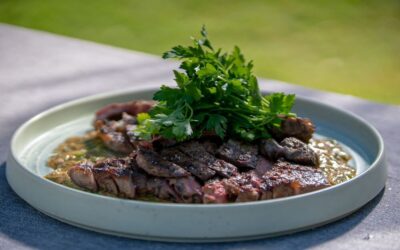 Ingredients: Serves: 2-4 2 x 250g T-bone or Rump steak Sea salt 2 Tbsp Olive oil 2 Tbsp Butter 1 brown onion, diced 2-3 cloves garlic, finely chopped 1 tsp dried chilli flakes 2 tsp dried mixed herbs 40 'twists' cracked black pepper 2 chicken stock cubes, crumbled 2-3...