Stir-Fried Beef with Black Pepper and Morning Glory
Matt Sinclair
Serves 2
2 Tbsp vegetable oil
200gm cooked rump steak, 1 cm slices, against the grain
1 bunch Kang Kong (Morning Glory), cut into 2 inch batons
2 packets instant noodles, cooked and rinsed
2 spring onions, finely sliced
2 Tbsp Oyster Sauce
2 Tbsp ABC sauce (Ketcup Manis)
1 Tbsp Fish Sauce
2 Tsp cracked black pepper
Paste
3 Tbsp vegetable oil
2 cloves garlic, roughly chopped
1 inch ginger, grated
3 birdseye chillies, sliced
Paste
Add the paste ingredients to a mortar and pestle and pound together to break down and combine.
Sauce
In a small bowl, add the oyster sauce, ketcup manis, fish sauce and pepper and mix together.
Stir Fry
Heat oil in a wok over a high heat. Fry off the paste, moving around constantly for about 1 minute.
Add the Kang Kong and stir fry for a minute, coating in the paste.
Add the noodles and toss to combine. Stir fry for another minute before adding the steak.
Heat through for about 30 seconds before adding the sauce and tossing it through to everything evenly.
Add the spring onions just before removing from the heat. Adjust seasoning to taste if needed.
Serve hot.
Our friends at Wine Selectors suggest pairing this dish with a Shiraz.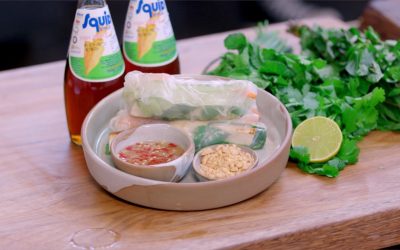 This recipe is brought to you by our friends at Asian InspirationsIngredients:Serves: 8 Prep Time: 10 mins Cook Time: 15 mins Main Ingredients: 1 packet rice paper 150g rice vermicelli noodles 1 bunch coriander 1 bunch Thai basil 1 bunch mint 1 bunch garlic chives 1⁄4...