Stoneground Rustic White
Ben O'Donoghue
Base
2 packets of Oreos
¼ cup + 1 tbsp of melted butter
1 pinch of salt
Filling
½ cup butter melted
Cup brown sugar
1 can condensed milk
¼ cup of cream
1 tsp salt
1 cup crunchy peanut butter (or smooth)
Topping
150g milk chocolate chips
50ml cream
2 tbsp smooth peanut butter
1 pinch of salt
Cup of roughly chopped peanuts
Preheat oven to 160C fan-force
To make the base
Blitz oreos until fine then add butter and salt.
Pack into a 23cm tart tin lined.
To make the tart filling;
Melt butter in a medium pan
Add brown sugar
Once bubbling add condensed milk and cream then turn off the heat
Stir in the salt and peanut butter
Pour caramel into the oreo base and back for roughly 15 minutes at 160C
Leave to cool for 30 mins after removing from oven.
Microwave choc chips, cream, peanut butter and salt for 2 x 30 second burst to melt.
Stir to combine and then pour over cooled tart.
Top with peanuts and set into fridge for 90-120mins.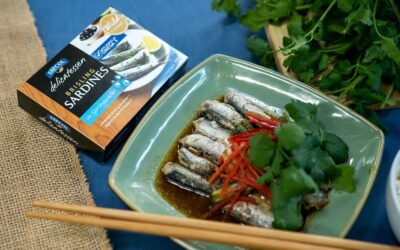 Ingredients: 110g Safcol Sardines in Springwater, drained 2 tbsp oil 1 clove garlic, sliced 2 slices ginger, julienned 2 spring onions, cut to 2cm lengths 1 tbsp brandy (you may substitute this with Chinese cooking wine) 2 tsp black bean sauce (available in the Asian...