Sum Yung Guys BBQ Chicken
Matt Sinclair
2 butterflied chickens
Oil
Coriander to garnish
Marinade (2-3 chickens)
20g garlic
30g coriander root
50g green chilli
70g brown sugar
80g oyster sauce
100g fish sauce
Sesame Sauce (1 litre)
200g sesame seeds
80g grated ginger
50g peanuts
150ml soy sauce
100ml rice wine vinegar
180ml water
80gm sugar
Marinade
In a high powered blender add all marinade ingredients and blend until smooth. Adjust seasoning to taste. This can be made a few days in advance.
Lay the chicken out in a non-reactive container and pour over enough marinade to coat generously. Rub the marinade into the chicken and place in the refrigerator for a minimum of 1 hour, ideally overnight.
Sesame Sauce
Place all sesame sauce ingredients into a small saucepan and gently warm through. Transfer into a clean blender and turn on to the highest speed to combine until smooth and creamy. Taste and adjust seasoning if required.
Preheat the oven to 220C.
Remove chicken from the refrigerator 30 minutes before cooking. Heat a large griddle pan or BBQ on medium-high and drizzle a little oil. Once hot, place the chicken skin-side down and cook for approximately 2-3 minutes until nicely charred. Turn them over and cook for a further 2 minutes. Place in the oven for approximately 10 minutes. Remove from the oven and allow to rest for 20 minutes.
To serve, spread the sesame sauce over the base of a platter. Cut each chicken into 8 pieces and place on top. Drizzle any juices from the resting tray over the chicken and garnish with coriander. Serve with rice or a punchy Asian salad.
Our friends at Wine Selectors suggest pairing this dish with a Chardonnay.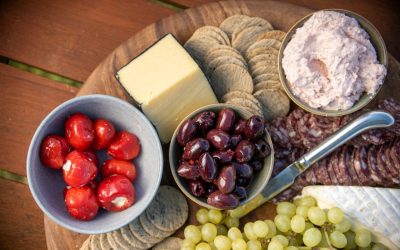 Ingredients: Hard Cheese Soft Cheese Blue Cheese 1 baguette  A bunch of Green Grapes Honeycomb Salami (sliced) Smoked Salmon Dip Artisan Crackers Beetroot dip Poppy Seed Skordalia Dip Dukkah Stuffed Bell Peppers Marinated Olives (pitted) Method: There are no rules or...