Tandoori Lamb with Herbed Mayo
Matt Sinclair
Recipe brought to you with the help of our friends at Wine Selectors
1.5kg butterflied lamb leg
6-8 pita bread/flatbread
1 red onion, thinly sliced
1 cos lettuce
Olive Oil
Herbed Yoghurt:
200gm Natural Yoghurt
1/3 cup fresh coriander, chopped
1/3 cup fresh mint leaves, chopped
1 clove garlic, grated finely
Zest and juice of 1 lemon
Sea Salt
Tandoori Paste:
2 Tbsp grated ginger
6 cloves garlic, grated
1 Tbsp tomato paste
1 Tbsp smoked paprika
2 tsp chilli powder
2 tsp ground turmeric
1 tsp ground cumin
1 tsp ground coriander
1 tsp garam masala
½ tsp ground cardamom
2 Tbsp brown sugar
2 Tbsp lemon juice
1 Tbsp Olive oil
Pinch Sea salt
Combine tandoori paste ingredients in a non-reactive bowl and adjust seasoning to taste. This can be jarred and refrigerated for up to 1 month.
Flatten the lamb leg onto a baking tray and evenly coat and massage with tandoori paste. Cover with foil and marinade in the refrigerator for a minimum of 1 hour, ideally overnight. Remove the lamb 30 minutes before cooking to bring it up to temperature.
Combine the herbed yoghurt ingredients in a bowl and mix together. Adjust seasoning as required. Set aside.
Heat a BBQ griddle or hotplate on high, approximately 180-200C. BBQ the butterflied lamb leg for approximately 10-12 minutes on each side until cooked to desired amount (medium is recommended for this recipe). The lamb will be nicely charred in spots. Remove onto a chopping board and cover with foil to rest for at least 10 minutes.
In the meantime, lightly oil the flatbread and place on the bbq to heat through, approximately 2-3 minutes.
Carve the lamb into 1cm-strips and serve inside the warmed flatbreads with red onion, lettuce and a generous dollop of herbed yoghurt.
Our friends at Wine Selectors suggest pairing this dish with a Rose.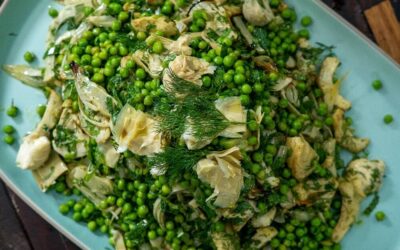 Ingredients: 500g fresh broad beans, in their pods 3–4 small fennel bulbs 250g frozen peas, thawed and rinsed 1 red onion, finely sliced 1 cup dill, finely chopped 1⁄2 bunch mint, finely chopped, plus extra whole leaves to garnish 1⁄2 bunch flat-leaf parsley, finely...