Toffee Apple Frangipane
Matt Sinclair
Serves: 8-10
Toffee Apple:
2 large Granny Smith apples, peeled, diced into chunks
½ cup caster sugar
Frangipane:
130g unsalted butter
160g caster sugar
1 Tbsp lemon zest
1 tsp vanilla bean extract
3 eggs
180g almond meal
75gm plain flour
½ tsp baking powder
Salt
To Serve:
60g flaked almonds, lightly toasted
Zest of 1 lemon
Icing sugar
1. Preheat the oven to 160C.
Toffee Apple:
2. Spread the apple over the base of a non-stick fry pan and sprinkle over the sugar. Place over a low-medium heat for about 25-30 minutes until sugar starts to turn to a golden caramel. Don't stir as you want to avoid it crystalizing. Cook until the caramel is evenly coloured, and apples have softened. Transfer mixture to a baking paper lined spring form cake tin (20-22cm) and set aside to cool slightly.
Frangipane:
3. While the caramel is cooling, prepare the frangipane. Add the butter and sugar into a bowl of an electric mixer and beat using paddle attachment for about 6-8 minutes or until light and fluffy. Add 1 egg at a time, incorporating well after each addition. Add the almond meal, baking powder, flour and a small pinch of salt and mix well on a medium speed to combine.
4. Pour frangipane over the toffee apple caramel and spread out evenly to the sides of the cake tin. Place in the oven for 40-45 minutes or until golden.
To Serve:
5. Allow to cool slightly before releasing it from the pan and over to turn out, apples facing up. Allow to cool slightly before garnishing with toasted flaked almonds, lemon zest and a dusting of icing sugar. Serve with dollop cream.
Recipe can be baked in a non-stick oven proof frying pan.
Our friends at Wine Selectors suggest pairing this dish with a Liqueur Topaque.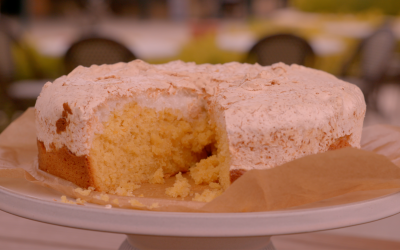 Ingredients:BASE 3 Egg Yolks 1/2 cup Caster Sugar 125g soft butter 2 cups Self-Raising flour 1 cup orange juice Vanilla   TOPPING 3 egg whites 1/2 cup caster sugar 1 cup desiccated coconut Method: Beat butter and sugar until creamy. Add yolks and vanilla. Fold in the...