Torta Caprese
Matt Sinclair
Serves 8-12
175g unsalted butter, chopped
220g 65% + dark chocolate, finely chopped
175g caster sugar
110g brown sugar
6 eggs
140g almond meal
2 tbsp cocoa
1/2 tsp sea salt
Icing sugar to dust
Serve with Raspberries and Cream (optional)
Preheat the oven to 180C. Grease and line a 22cm springform cake tin with baking paper.

Place the butter and chocolate into a heatproof bowl over a saucepan of shallow, lightly simmering water (careful not to have the water touching the base of the bowl). Stir with a spatula until completely melted and combined. Set aside to cool slightly.

Meanwhile, add the sugar and eggs to the bowl of an electric mixer, using a whisk attachment, whisk the sugar and eggs together for 4-5 minutes until pale and fluffy. Remove from the mixer and add the almond meal, sifted cocoa and salt to the bowl. Gently fold through to combine. Pour in the melted chocolate and gently fold through until combined.

Pour the mixture into the cake tin and smooth the top with a spatula. Place it into the oven and bake for 45-50 minutes.

Remove to cake rack and allow to cool completely before removing it from the cake tin. Garnish with icing sugar and serve with whipped cream & fresh raspberries (optional).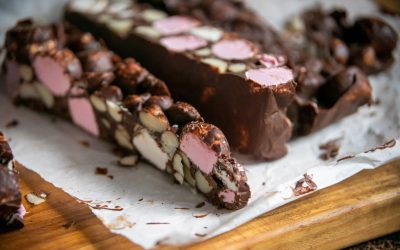 Recipe brought to you with the help of our friends at Ocean Spray Ingredients: 2 blocks of chocolate 1 bag of craisins 1 cup of Macadamias 2 tbs of vanilla bean paste 1 bag of marshmallows Handful of cocoa butter (optional) Method: Put chocolate and cocoa butter in a...