Trout and Udon Noodle Salad
Matt Sinclair
Serves 4
1 packet Udon Noodles (Hakubaku brand preferred)
250g smoked trout, torn into bite-sized slices
200g mesclun or butter lettuce, roughly torn
1 Lebanese cucumber, halved lengthways, deseeded, sliced
3 spring onions, thinly sliced
1 cup fresh coriander, roughly chopped
Dressing
3 Tbsp fresh lime juice
1 Tbsp soy sauce
2 Tbsp caster sugar
1 Tbsp sesame oil
1 heaped Tbsp grated ginger
Cook udon noodles in rapid boiling water for 8 minutes or until al dente. Strain and rinse immediately under cold water.
Combine the dressing ingredients in a bowl and mix to combine. Adjust seasoning to taste with extra of the listed ingredients if needed. Dressing should be evenly balanced with saltiness, tang and sweetness.
Transfer the noodles to a large bowl and add the remaining salad ingredients, toss to combine. Just before serving, dress the salad and toss to coat evenly. Divide into bowls and serve immediately.
Our friends at Wine Selectors suggest pairing this dish with a Pinot Grigio.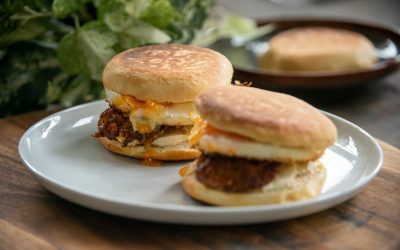 Ingredients: 300ml milk, plus extra 7g sachet of dried yeast 25g white caster sugar 50g shortening or lard 425g plain flour, plus extra 20g polenta, optional Unsalted butter Method: Gently warm the milk in a pan until lukewarm or body temperature, 37ºC. Add the yeast...