Whole Roasted Broccoli
Mike Reid
Recipe brought to you with the help of our friends at Velisha Farms
1 whole broccoli
6 garlic cloves, grated, mixed with a little oil
1 bunch fresh thyme, leaves and stalks separated
100g butter, diced
Pinch freshly grated nutmeg
Spicy Tomato Sauce:
3 tbsp olive oil
1 large onion, peeled and finely chopped
3 garlic cloves, peeled and finely chopped
1 tsp cumin seeds
1 tsp black peppercorns, left whole
1 tsp cloves
1 cinnamon stick
1 bay leaf
2 green cardamom pods, slightly crushed
1 tbsp garam masala
1 tbsp mild chilli powder
1 tbsp ground turmeric
1 x  crushed tomatoes tin
Fire the BBQ up and grill the whole broccoli head side down. Melt down the butter with garlic and olive oil & thyme in a pot.
Baste the broccoli with the garlic and butter mixture as it cooks. Cook until desired charr and texture. About 15-20 minutes depending on the size of your broccoli.
Spiced Tomato Sauce
In the meantime, crush all the spices in a mortar and pestle.
Saute down the onion and garlic until softened
Add spice mixture and saute to cook off the spices
Add your crushed tomatoes, stir and reduce until desired thickness.
Serve lashings of sauce with whole roasted broccoli on top.
Our friends at Wine Selectors suggest pairing this dish with a Fiano.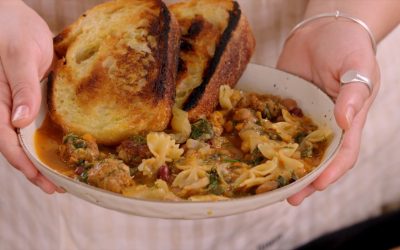 Ingredients: 4 Spicy Italian Sausages Packet of Farfalle Pasta 1 Leek 1 Carrot 1 Onion 2 Garlic 2 cups Shredded Cabbage 1 Chopped Silver Beet 1 400gm Tinned Beans 1 tsp Cumin powder 1 tsp Coriander  powder 1tsp Paprika powder 2 tbsp Tomato Paste Stock of your choice...