1 banana
2/3 cup milk
1 large handful frozen mixed berries
3 tbsp rolled oats
2 Scoops Ensure Vanilla Powder
2 tsp acai powder
4 ice cubes
Garnish
Chopped mango
Blueberries
Pepitas or chia seeds
Shaved coconut
Nuts
Drizzle Honey (if desired)
Place oats, milk, banana, frozen berries, Ensure Vanilla powder, ice cubes and acai powder into a blender and blend until smooth.
Pour into a serving bowl.
Chop fresh fruit to garnish and sprinkle with shaved coconut, nuts and a drizzle of honey if desired.
For more details on Ensure, go to ensure.com.au
Acai is a purple fruit found mostly in brazil. It is high in antioxidants, like all berries are. Usually we buy acai in a powder made from freeze dried fruits as the berries are very sour on their own so we will combine them with other ingredients today to make a delicious smoothie.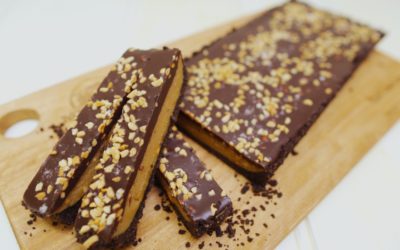 Ingredients: Base2 packets of Oreos¼ cup + 1 tbsp of melted butter1 pinch of saltFilling½ cup butter meltedCup brown sugar1 can condensed milk¼ cup of cream1 tsp salt1 cup crunchy peanut butter (or smooth)Topping150g milk chocolate chips50ml cream2 tbsp smooth peanut...