Apple & Honey Tea Cakes
Khanh Ong
175g butter softened
140g caster sugar
3 eggs
1⁄2 a cup of honey
1 tsp vanilla bean paste
1⁄2 a tsp of cinnamon
1 1⁄3 cup of self raising flour sifted
2 Granny smith apples
2 tsp demerara sugar
Garnish:
Cream the butter and caster sugar in a stand mixer, add in 1 egg at a time. add in 1⁄4 cup of honey, vanilla bean paste and cinnamon until all combined
Fold in flour and pop into greased mini loaf pans
Peel core and cut apples into quarters. thinly slice the apples but not all the way through.
Pop into the batter and bake at 180 for 20-25 minutes
Remove and drizzle remaining honey over it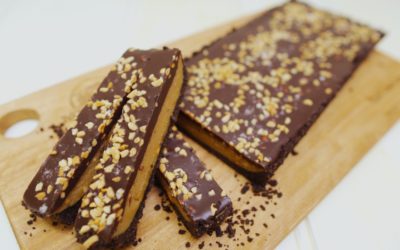 Ingredients: Base2 packets of Oreos¼ cup + 1 tbsp of melted butter1 pinch of saltFilling½ cup butter meltedCup brown sugar1 can condensed milk¼ cup of cream1 tsp salt1 cup crunchy peanut butter (or smooth)Topping150g milk chocolate chips50ml cream2 tbsp smooth peanut...