Apple Tart Tartin
Ben O'Donoghue
24cm cake tin or non-stick fry pan
7-8 granny smith apples peeled and cut into quarters
500g of puff pastry
2 vanilla pods split
Caramel
250g caster sugar
100g butter
50ml of water
Firstly make your caramel by dissolving the sugar with the water in a clean 24 cm pan. Boil the sugar mixture until the syrup starts to caramelize turning golden brown, at this point remove from the heat and add the butter and whisk together.
Add the apple to the pan and toss to coat, then arrange the apple so that the rounded sides are facing down and they fit snugly together. Set aside.
Lightly flour your bench and roll the puff pastry into a round as wide as the inside edge of your pan and trim so that it is vaguely round.
Roll the pastry up around your rolling pin and lay/roll the pastry over your caramel and apple mixture. Tuck the edges into the pan and snuggly encase the apples.
Place the pan back over the heat and bring the caramel back to the boil.
Place into a hot oven at about 180 degrees and cook until the top is golden and crisp, about 25 minute.
Remove from the oven and allow to rest before turning out, just to avoid burning yourself with hot caramel.
Serve warm for best results with the best vanilla ice cream.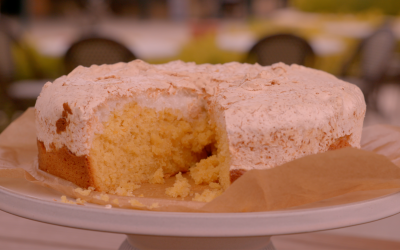 Ingredients:BASE 3 Egg Yolks 1/2 cup Caster Sugar 125g soft butter 2 cups Self-Raising flour 1 cup orange juice Vanilla   TOPPING 3 egg whites 1/2 cup caster sugar 1 cup desiccated coconut Method: Beat butter and sugar until creamy. Add yolks and vanilla. Fold in the...