Apricot and Almond Tart
Ben O'Donoghue
Serves 8–10
Pastry
335 g/11 ½ oz plain Laucke flour
100 g/4 oz icing sugar
235 g/8 ½ oz unsalted butter, cubed
3 free-range egg yolks
Filling
250 g/9 oz unsalted butter, cubed
250 g/9 oz caster sugar
1 vanilla pod, split lengthways
250 g/9 oz almond meal
pinch salt
2 eggs
6-8 fresh apricots
Icing sugar, to serve
To make the pastry, place the flour, sugar and butter in a food processor, and blend to a fine breadcrumb texture. Add the egg yolks, one at a time, and mix until the dough just comes together. Wrap in plastic wrap and freeze.
To make the filling, pulse the almonds in a food processor to a coarse crumb.
Whisk the butter and sugar in a food processor to give a soft but not overly whipped mixture. Scrape in the seeds from the vanilla pod and add the almond meal and salt. Mix thoroughly. Then add the eggs one by one in fluted loose-bottomed tart tin. Grate half of the pastry into the prepared tin.
Using the tips of your fingers, press the pastry over the base. Grate the remaining pastry in and press into the edges of the tin, to the same thickness as the bottom. Rest in the fridge for at least 30 minutes.
Preheat the oven to 180°C. Bake the tart case, uncovered, for 15 minutes until lightly golden, Set aside to cool.
Cut your apricots in half and remove the seeds. Toss them in vanilla sugar if you have but not necessary. Pour your filling into the tart shell and arrange you apricots cut side up evenly to fill the tart.
Bake for 30 minutes, or until just firm and golden brown. Allow to cool.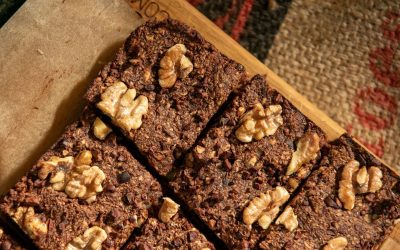 This recipe is brought to you with the help of our friends at JC's Quality Foods Ingredients: 1 ½ cups raw cashews 1 ½ desiccated coconut 3 medium ripe bananas, peeled and chopped 10 fresh dates, pitted 2 tsp vanilla extract ⅓ cup raw cacao powder ½ tsp bicarbonate of...