Asparagus with Anchovy Crumb
Khanh Ong
3 tbsp EVOO
1 banana shallot or
2 shallots finely chopped
5 anchovy fillets finely chopped
2 garlic cloves crushed
1 cup fresh breadcrumbs
1 lemon, zest and juice.
a pinch of salt
300g asparagus woody part removed
Coat the asparagus with 1 tbsp of EVOO and in a griddle pan on high, cook the asparagus in batches for 4-6 minutes turning once.
Place 1 tbsp of EVOO into a medium pan then add shallots, a pinch of salt and cook for 1-2 minutes until softened.
Add the anchovies, stir and mash them until dissolved.
Add garlic and cook for 30 seconds to a minute.
Zest the lemon into the mixture, then add a squeeze of lemon juice
Add bread crumbs and stir occasionally for 3-5 minutes or until crispy then season with salt.
Place asparagus on a serving dish, top with a drizzle of EVOO then add the crumb mixture.
Our friends at Wine Selectors recommend pairing this dish with a Riesling or Syrah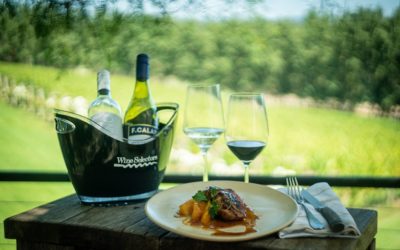 Ingredients: 4 duck breast 1 tablspoon brown sugar ½ tablespoon salt ¼ bunch thyme 1 tsp five spice butter garlic Sauce 1/3 cup sugar 1/3 cup fresh orange juice (from 1 to 2 oranges) segments of one orange 2 tablespoons white-wine vinegar 1/8 teaspoon salt 2 to 4...