Aussie Caprese Salad
Ben O'Donoghue
Serves 6-8
1kg tomatoes
Sea salt
¼ cup (60ml) extra virgin olive oil
1 bunch of fresh rosemary, leave picked
250g tub cottage cheese
2 clove garlic
Freshly ground black pepper
1/3 cup mixed chopped herbs, include basil, oregano and mint
Wash and cut the tomatoes in half in irregular shapes. Season with a little salt, half of the olive oil and the picked rosemary.
Mix the cottage cheese with the remaining oil, garlic, salt and pepper, and half the chopped herbs and set aside.
Preheat the barbecue grill plate to very hot. Cook the tomatoes cut side down on the preheated barbecue until charred. Remove to a serving plate.
Scatter the cottage cheese over the tomatoes and garnish with remaining freshly chopped herbs.
For this salad try and get hold of a variety of different tomatoes. It looks really pretty if you can find yellow or black tomatoes as well as red ones. Whichever tomatoes you do find, make sure they smell fabulous and ripe. It will make a big difference to the flavour of the salad.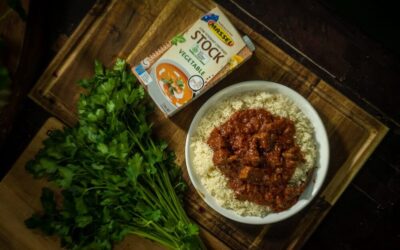 Ingredients: 1 1⁄2 kg round steak, cleaned and cut into cubes 3 cans of roma tomatoes, crushed by hand 1 onion, finely diced 2-3 cloves of garlic 1⁄2 cup of olive oil, plus an additional 2 tbsp 1tbsp red wine vinegar 1L water or chicken stock (optional) 1tbsp tomato...