Avocado Mango Turkey Wraps
Elena Duggan
150-200g / 1 Avocado, diced
150-200g / 1 Mango, diced
50-75g / ½ Red onion, finely diced
50-75g / ½ Capsicum, finely diced
½ bunch Coriander, leaves only
1 lime, juice and zest reserved
½ tsp Cayenne
250g Turkey Mince
25g butter
White pepper, to taste
Salt, to taste
Preheat medium non-stick fry pan to medium high, and stir-fry turkey mince in butter, lime zest, cayenne, pepper and salt until cooked through and starting to caramelize. Set aside and allow turkey to cool, can refrigerate and utilise at a later time.
Fill centre of wrap with ingredients as desired, followed by turkey and fold/ roll wrap as desired.
Dairy free
Gluten free – optional – choose GF wraps
Refined sugar free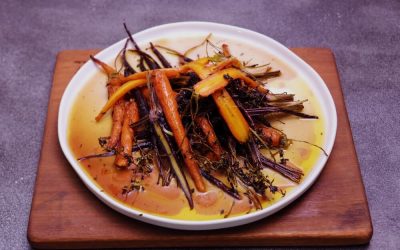 Join Elena Duggan as she creates her Honey Herbed Carrots recipe. Tune in to The Market kitchen each weekday on Channel 10.