Award Winning Poached Pear Dessert
Naheda Hassan
Serves: 4
2 cups shiraz
1 cup water
2 cups sugar
10 cloves
2 cinnamon sticks
4 small – medium ripe pears
Ricotta & Blue Cheese Cream:
500g ricotta
4 tbsp honey (see notes)
50g blue cheese (see notes)
Zest of ½ lemon
Finely chopped pistachios (see notes)
To poach pears:
Place Shiraz, water, sugar, cloves and cinnamon sticks in a medium-sized saucepan. Bring to boil, stirring occasionally until sugar has dissolved.
Peel pears and, leaving pears whole, remove cores (optional).
Add pears to the syrup and bring to the boil. Reduce heat and cook pears gently until tender, about 15 minutes. Remove pears and set aside to cool. Return syrup to boil and cook until reduced and slightly thickened. Remove from heat and set aside to cool.
Meanwhile, prepare Ricotta & Blue Cheese Cream: Using a stick blender, combine ricotta, honey, blue cheese and lemon zest until smooth.
To serve: Place a thick strip of Ricotta & Blue Cheese Cream on each serving plate and place a thin strip of chopped pistachios on top. Arrange one pear alongside, carefully spoon a little syrup over each pear and serve at once.
Notes:
Use less honey if desired.
Naheda recommends using an extra creamy Danish blue for this recipe. If using Gorgonzola, only use half the amount to prevent overpowering other flavours.
Try using different nuts such as walnuts or hazelnuts
Our friends at Wine Selectors suggest pairing this dish with a Botrytis Semillon.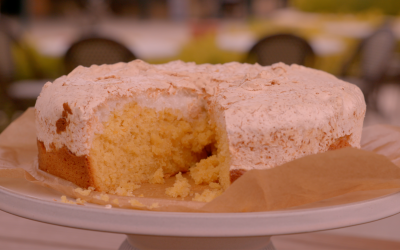 Ingredients:BASE 3 Egg Yolks 1/2 cup Caster Sugar 125g soft butter 2 cups Self-Raising flour 1 cup orange juice Vanilla   TOPPING 3 egg whites 1/2 cup caster sugar 1 cup desiccated coconut Method: Beat butter and sugar until creamy. Add yolks and vanilla. Fold in the...