Baked Kofta with Eggs
Ben O'Donoghue
Serves 4
Red onion 1 large, grated
Ground coriander 1 heaped tsp
Flat-leaf parsley chopped to make 2 tbsp
Minced lamb 500g
Olive oil
Chopped tomatoes 2 x 400g tins
Eggs 4 (optional)
Coriander a handful of leaves to serve
Spice Paste
Garlic 1 clove
Sea salt
Coriander stalks from a large bunch, chopped
Red onion 1/2, grated
Ground cumin 1 tsp
Saffron 2 pinches
Lemon 1, zested
To make the paste, bash the garlic to a purée in a pestle and mortar with a big pinch of sea salt.
Add the rest of the ingredients and work together until you have a paste. Alternatively, just whizz it all together in a food processor.
Put the onion, ground coriander, flat-leaf parsley and lamb in a bowl.
Season, mix and roll into 12 meatballs. Heat 2 tbsp olive oil in a tagine or wide shallow pan (with a lid) and brown the meatballs all over, then scoop them out.
Add the paste to the tagine or pan and fry for a few minutes until aromatic.
Put the meatballs back in the pot with the tomatoes and simmer for 30 minutes with the lid on.
Crack the eggs on top, if using, and cover for the last 5 minutes of cooking. Scatter over coriander and serve with couscous.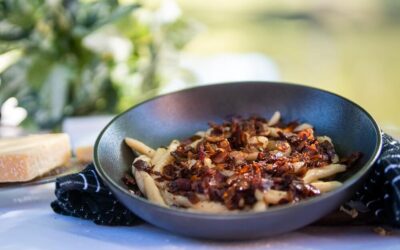 Ingredients: 250g fresh pasta 3 large free range eggs 40g parmigiano cheese 150g smoked pancetta / guanciale Sea salt flakes Black pepper Method: In a mixing bowl, whisk the eggs, parmigiano cheese, salt and pepper. In the meantime, place the diced pancetta into a fry...