Baked Salmon Nicoise Salad
Khanh Ong
500g skinless salmon fillet
10 vine cherry tomatoes
1⁄4 cup EVOO
1 red onion
1 lemon, zest and juice
6 chat potatoes cooked
100g green beans blanched
6 soft boiled quail eggs
6 slices of anchovies
1⁄2 bunch of flat leaf parsley
50g kalamata olives salt
Place salmon and tomatoes in a baking tray and cover with EVOO, cut the red onion into wedges and add to the tray, add the zest and the juice of 1 lemon and sprinkle with salt.
Place in a 130c oven for 15-20 minutes until salmon is medium-rare.
Place the salmon on a platter, with potatoes cut into slices, with green beans, eggs halved, anchovies, a nice confetti of parsley and olives.
Our friends at Wine Selectors recommend pairing this dish with a Cuvee or a Pinot Noir.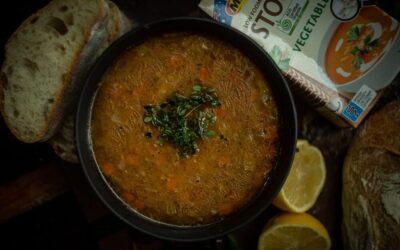 Ingredients: 500g dried chickpeas, soaked in cold water overnight 1-2 sticks of celery, finely chopped 1 large onion, chopped 150ml extra virgin olive oil, plus extra for serving Juice of 1 lemon, or more if needed 2 tbsp fresh flat-leaf parsley, chopped A sprinkling...