Baked Sweet Potato
Ben O'Donoghue
Serves 4
4 sweet potatoes, washed and dried
2 long green chillies, seeded and finely chopped
Finely grated zest and juice of 1 lemon
2 tablespoons extra virgin olive oil
Sea salt
Preheat the oven to 180ºC. Put the unpeeled sweet potatoes on a baking tray lined with foil and cook for about 30 minutes, or until the potatoes are quite soft and oozing syrup — the cooking time will vary depending on the size of the vegetables.
Allow to cool slightly, discard the foil, then use a sharp knife to cut the skin of the potatoes and squeeze the base to open them up a little.
Combine the chilli, lemon zest, lemon juice and olive oil in a small bowl and season with salt, to taste.
Spoon some of the chilli mixture over each sweet potato and serve immediately.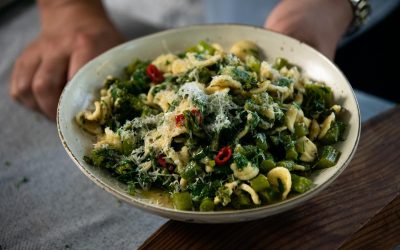 This recipe is brought to you with the help of our friends at Perfection Fresh  Ingredients: 500g orecchiette pasta Table salt for pasta water 2 heads broccolini, cut into small pieces, use stalk as well 4 birds eye chilli, sliced finely 5 cloves garlic, chopped 4...