Baked Sweet Potato
Ben O'Donoghue
Serves 4
4 sweet potatoes, washed and dried
2 long green chillies, seeded and finely chopped
Finely grated zest and juice of 1 lemon
2 tablespoons extra virgin olive oil
Sea salt
Preheat the oven to 180ºC. Put the unpeeled sweet potatoes on a baking tray lined with foil and cook for about 30 minutes, or until the potatoes are quite soft and oozing syrup — the cooking time will vary depending on the size of the vegetables.
Allow to cool slightly, discard the foil, then use a sharp knife to cut the skin of the potatoes and squeeze the base to open them up a little.
Combine the chilli, lemon zest, lemon juice and olive oil in a small bowl and season with salt, to taste.
Spoon some of the chilli mixture over each sweet potato and serve immediately.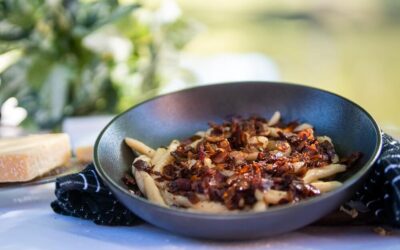 Ingredients: 250g fresh pasta 3 large free range eggs 40g parmigiano cheese 150g smoked pancetta / guanciale Sea salt flakes Black pepper Method: In a mixing bowl, whisk the eggs, parmigiano cheese, salt and pepper. In the meantime, place the diced pancetta into a fry...