Balinese Coconut and Snake Bean Salad
Khanh Ong
150g snake beans cut 5mm pieces
1 medium carrot julienned
100g bean sprouts
1 tbsp coconut oil
4 shallots sliced
2 cloves of garlic sliced
2 long red chilli sliced
6 kaffir lime leaves finely chopped
1 tbsp fish sauce
1 packed cup of fresh grated coconut
a pinch of salt
juice of half a lime
Blanch the snake beans, carrots and bean sprouts for 1-2 minutes in boil water and drain well. set aside.
in a large pan add coconut oil, shallots, garlic, 1 of the chilli and kaffir lime leaves to cook and activate for 3-4 minutes.
deglaze with fish sauce, turn off the heat and add in grated coconut.
toss together with vegs, the rest of the chili and salt.
finish with a squeeze of lime.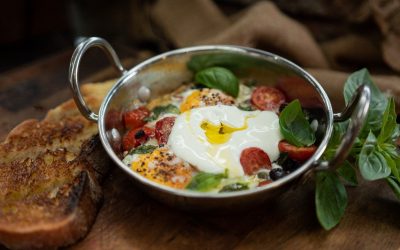 Ingredients: 9 cherry tomatoes, halved 1 small garlic clove, thinly sliced 2 tsp good-quality olive oil 1 tsp balsamic vinegar 5 basil leaves, torn, plus a few extra to serve if you like 5 pitted olives, sliced 2 large free-range egg 1 tsp small capers, rinsed salt...