Banana Cake/loaf
Simone Austin
3 ripe mashed banana
1/3 cup sugar
1 teaspoon bicarbonate of soda
1 ½ cups self raising flour (could use wholemeal)
½ cup Light extra virgin olive oil
2 eggs
2 tablespoons of milk
6 scoops of Ensure vanilla Powder
Beat together the extra virgin olive oil, sugar and eggs. Add in the mashed bananas and mix well.
Add the bicarbonate of soda to the milk separately and then add to the mixture.
Add in the flour and Ensure Vanilla powder and mix until combined.
Line a greased and floured 2cm square cake tin and pour in mixture.
Bake in a moderate oven 180 degrees for 30minutes or until cooked.
For more details on Ensure, go to ensure.com.au
What better afternoon snack than a fresh slice of banana cake – this banana cake has a couple of extra nutritional surprises.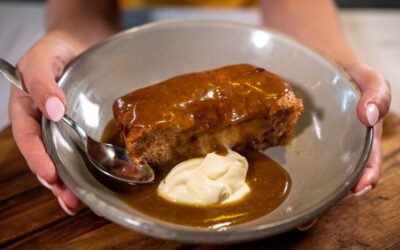 Ingredients: 185 g dates 1 cup water 60g butter 2 eggs 185g self raising flour 185g sugar 1tsp baking powder ½ tsp vanilla paste Butterscotch Sauce: 1 cup cream ¾ cup brown sugar 2 tbsp butter Pinch of salt Method: Bring the dates and water to a boil, then remove from...