1⁄2 cup rice flour
1 cup plain flour
1 1⁄2 cup of water
1⁄2 tsp salt
1⁄2 tsp sugar
1⁄2 tsp turmeric powder
1 tsp baking powder
250g of shredded sweet potato soaked in water for 10 minutes then drained
250g School prawns or smallest prawns you can find
1 tsp minced garlic
1 tsp of chicken stock powder
1⁄2 tsp white pepper a pinch of salt
To Serve:
Nuoc Cham dressing
Iceberg lettuce
Leaves mint sprigs
Vietnamese mint sprigs
Mix rice flour, flour, water, salt, sugar, turmeric and baking powder well to form a batter.
Place sweet potato in the batter and coat well.
Prep the shrimp but cleaning up legs and head with scissors
In a small bowl mix shrimp with garlic, chicken stock, pepper and salt.
Fill a pot up with oil to deep fry and bring to 180C
Fill a small ladle with sweet potato batter dip a prawn in the batter and place on top of sweet potato.
Deep fry for 3-5 minutes until golden brown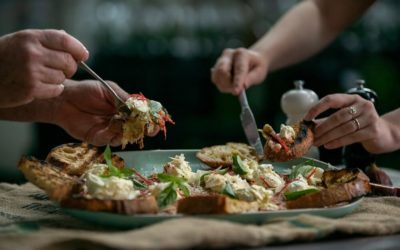 Ingredients: Serves 4 10 ripe figs 2 long red chillies ½ bunch basil Extra virgin olive oil 4 slices of sour dough bread 50g parmesan cheese 2 whole buffalo mozzarella ½ cup of crème criache Baking paper Method: Grill the chillies on your stovetop to blacken and...