Barramundi Wing with XO Sauce
Mike Reid
Recipe brought to you with the help of our friends at Supreme Caravans
100ml Fish Sauce (Red boat brand)
30g brown soft sugar
Sea Salt
XO Sauce:
170g Dry Scallops
100g Dry Shrimp (adjust to your taste)
30g Dry Calamari (adjust to your taste)
60g Jinhua Ham
300g Shallot, diced
35g Garlic, minced
70g Ginger, minced
30g Dry Red Chili (adjust to your taste)
240ml Avocado Oil
30ml Chili Sesame Oil (adjust to your taste)
2tbsp Shaoxing Wine
240ml Dark Soy Sauce (Mushroom flavored, adjust to your taste)
2 tbsp Brown Sugar
Sauce:
Over a medium heat, add all ingredients and reduce by half. Set aside until needed
XO Sauce:
First rehydrate all your dry scallops, prawns and calamari in water for about 1 hour. When ready drain off water and discard keeping your fish
Sautee your shallots, garlic, ginger and ham in your avocado oil and sesame oil. Just as they are starting to caramalise add in your dry fish and continue to saute over a medium heat.
Next add your wine and reduce. Then add your sugar and soy and simmer over a low heat until everything is nicely cooked
To Finish:
Grill your barramundi wings skin side down first after brushing with a little olive oil. Once you have a nice colour, turn it over and finish cooking. Depending the size of your wings cooking time will vary but it won't take as long as you think.
Top with gorgeous xo sauce and enjoy
Our friends at Wine Selectors suggest pairing this dish with a Pinot Gris.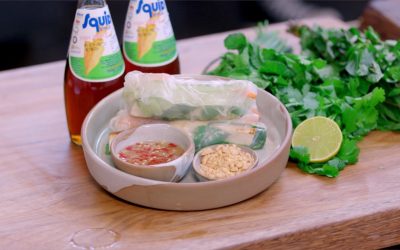 This recipe is brought to you by our friends at Asian InspirationsIngredients:Serves: 8 Prep Time: 10 mins Cook Time: 15 mins Main Ingredients: 1 packet rice paper 150g rice vermicelli noodles 1 bunch coriander 1 bunch Thai basil 1 bunch mint 1 bunch garlic chives 1⁄4...