BBQ Bugs with Nduja Butter
Mike Reid
Recipe brought to you with the help of our friends at Supreme Caravans
3 Morton bay bugs
1 bunch dill
1 bunch of mint
2 red chilies, sliced.
Nduja Butter:
75g softened butter
2 banana shallots, peeled and finely diced
50g Nduja
1 tbsp finely chopped chives
salt and freshly ground black pepper
Prep the bugs by removing the heads. Cut down the centre of the tail with scissors to expose the flesh, but leaving in the shell.
Cook on hibachi with flesh facing upwards, for 5-7 minutes.
In a frypan, add shallots, nduja, chives and seasoning. Cook down until well combined.
Let cool in a bowl then add butter and mix together.
When the bugs are half way cooked, add the nduja butter on top.
Serve with dill, mint and chillies.
Our friends at Wine Selectors suggest pairing this dish with a Chardonnay.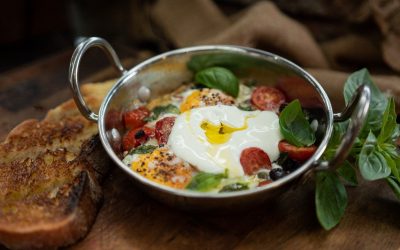 Ingredients: 9 cherry tomatoes, halved 1 small garlic clove, thinly sliced 2 tsp good-quality olive oil 1 tsp balsamic vinegar 5 basil leaves, torn, plus a few extra to serve if you like 5 pitted olives, sliced 2 large free-range egg 1 tsp small capers, rinsed salt...