BBQ Butter Chicken
Ben O'Donoghue
500g chicken thigh fillets, skin removed, cut into 4 cm dice
Marinade
80g (1⁄3 cup) plain yoghurt
3 garlic cloves, crushed
1 tablespoon ginger paste
1 tablespoon garam masala
2 tablespoons Korean fermented chilli paste (gochujang) or chilli powder
2 tablespoons lime juice salt, to taste
Butter Sauce
400g can whole peeled tomatoes
1 onion, roughly chopped
1 red capsicum (pepper), seeds removed
2 teaspoons ginger paste
1 teaspoon garlic paste
1 red chilli, optional
250ml (1 cup) cream
Salt, to taste
50g butter
Marinade
Combine the marinade ingredients in a food processor and blend well.
Thoroughly coat the chicken with the mixture and allow to marinate in the fridge for at least 2 hours.
Butter Sauce
Meanwhile, to make the butter sauce, combine all the ingredients, except the butter, in a food processor and blend well. Melt the butter in a saucepan over medium heat and when it begins to foam, pour in the sauce mixture and simmer, for 30–40 minutes, until reduced by half, keeping an eye on it so it doesn't catch.
Skewer the chicken pieces onto metal skewers and place on a tray. Drizzle with any remaining marinade and cover while heating your barbecue.
If using charcoal, ensure the coals are well lit and evenly spread, then suspend the skewers over the coals. If using a gas barbecue, cook the skewers over a medium heat, suspended between two house bricks. Cook, turning the skewers frequently to ensure even cooking, for at least 15 minutes to ensure the chicken is cooked through.
When the chicken is well cooked and charred at the edges, un-skewer the meat into the sauce. Alternatively, coat the skewered meat with the sauce.
Serve straight away.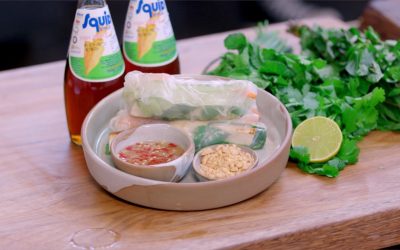 This recipe is brought to you by our friends at Asian InspirationsIngredients:Serves: 8 Prep Time: 10 mins Cook Time: 15 mins Main Ingredients: 1 packet rice paper 150g rice vermicelli noodles 1 bunch coriander 1 bunch Thai basil 1 bunch mint 1 bunch garlic chives 1⁄4...