BBQ'd Prawns
Elena Duggan
1lge Orange, zest, segments and reserve spent flesh to juice
1lge Fennel bulb with fronds, finely sliced
1long Red chili, sliced
1tsp Fennel seeds
1tsp Salt, nutrient dense
1lge Spanish/ red onion, half finely sliced, half roughly chopped
500g (approx. 4 jumbo green prawns), local to you
100g EVOO, reserve 20g for dressing
In a small food processor blitz the orange zest, then half the fennel fronds, the chilli, fennel seeds, salt ,half the chopped red onion until a rough paste. Drizzle in the olive oil until a loose marinade is just combined.
To prepare the prawns, cut between the legs and through the flesh to the back of the shell but not through the shell, turn prawn around and split head open continuing along the cut you created. Open the prawns up to butterfly them and remove all intestinal tracts. You may need to use a gentle force to press open the prawns to encourage them to lay flat.
Preheat your outdoor bbq or indoor griddle pan to a medium high heat.
Generously coat the prawns back and front in your marinade. You can leave them for 5-10minutes at room temperature or grill straight away.
To cook the prawns, place the shell side down first and grill until prawn flesh is just opaque to half way up, time will depend on size of prawns, maybe as little as a minute or up to three. Flip prawns to flesh side down and cook for a further 1-3minutes or until flesh is just cooked through, firm, opaque and pink.
Whilst the prawns are grilling, prepare your presentation plate. Layer fennel fronds and slices, along with orange segments, and rest of sliced onion. Using your hands squeeze out all remaining juice from the spent orange and dress with EVOO. Toss through.
Once prawns are ready pile them on top of the salad, presenting open flesh to you diner.
Gluten free
Grain free, optional
Low Fructose / Minimal sugar
Keto Friendly
Vegetarian
Pescatarian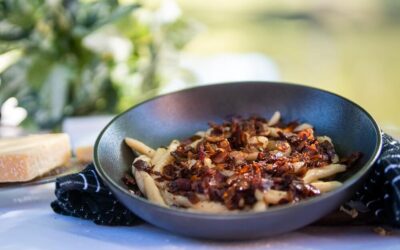 Ingredients: 250g fresh pasta 3 large free range eggs 40g parmigiano cheese 150g smoked pancetta / guanciale Sea salt flakes Black pepper Method: In a mixing bowl, whisk the eggs, parmigiano cheese, salt and pepper. In the meantime, place the diced pancetta into a fry...