Beef Tataki
Ben O'Donoghue
200g beef fillet
5 cloves of garlic, sliced on a mandolin
1 cup of milk
2 cups of vegetable oil
½ white onion, sliced
1tbsp chopped spring onions
Dressing:
1 tbsp Ponzu sauce
1 tbsp garlic and onion oil (from frying)
½ garlic clove, minced
½ radish, minced
1 tsp grated white onion
Place milk into a pot and bring to almost boiling. Place sliced garlic into a pot for a few minutes, then drain on a paper towel.
Lightly season the beef, then sear the outside of the beef.
In a pot, heat vegetable oil and fry garlic slices until blonde and golden and strain.
Repeat the process with onion.
For the dressing, combine all the ingredients.
To plate, cut thin slices of your beef fillet then using the flat surface of the knife squish the beef to thin out. Arrange on the plate and top with fried onions, fried garlic.
Drizzle the dressing and top with fresh chopped spring onions.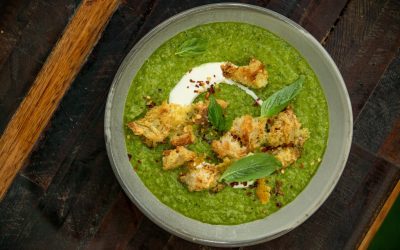 Ingredients: 2 heads broccoli 1 large leek, halved lengthwise, rinsed 2 tbsp extra virgin olive oil 1 head garlic, unpeeled 4 cups (1L) chicken or vegetable stock 120g baby spinach leaves 125g sour cream, plus extra to serve Chilli flakes & herbs, such as basil,...