Beer Battered King George Whiting
Laura Sharrad
6 x KGW fillets
Oil for frying
Batter:
100g cornflour
100g plain flour
100g self raising flour
500ml cold pale ale beer
Tartar Sauce:
1 handful parsley leaves, chopped finely
1 handful dill leaves, chopped finely
1/2 red shallot, finely diced
2 tbs baby capers, chopped
6 baby gherkins, chopped
1 lemon
150g mayonnaise
Salt
Whisk the three flours together & slowly add in the cold beer and mix to combine into a smooth batter
Dip the fish into the batter & fry in hot oil until golden & crispy.  Season with salt flakes
Tartar Sauce:
For the tartar, Mix the ingredients together.  Serve immediately
Our friends at Wine Selectors suggest pairing this dish with a Riesling.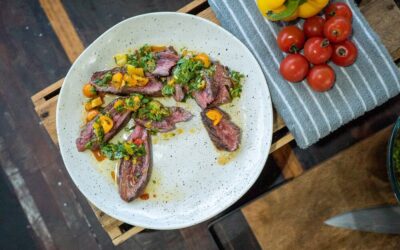 Ingredients: Serves: 4 800g Hanger Steak Sea Salt 1 small yellow pepper, seeds removed, roughly chopped 6 Yellow baby Tomatoes 1 small red chilli, seeds removed ½ tsp dried flaked chillies 2 Garlic cloves, peeled 20g fresh parsley, including any tender stalks 10g each...