Black Pepper Chicken Curry
Ben O'Donoghue
Green chillies long and short, 3 or 4 of each, deseeded (depending on how hot you like it)
1kg chicken drumsticks and thighs
Garlic 8 cloves, crushed
50ml juice
Turmeric 2 tbsp
Cumin seeds 1 tbsp
Oil
2 Onions
2 tbsp Crushed coriander seeds
2 tbsp Cracked black pepper
2 sprigs Curry leaves
2 tbsp Fresh coriander (leaves only)
Purée the deseeded chillies in a blender or food processor – add a bit of water or oil if they won't whizz up properly.
Puréeing will bring out the maximum heat so don't breathe in as you take the lid off! Put the chicken in a bowl and chuck in the garlic, chilli, lemon juice and turmeric. Squish it through the chicken with your hands to coat, then leave it to sit while you do the next bit.
Fry the cumin seeds in a little oil for a few seconds, then tip in the onion and fry gently until soft. Stir in the crushed coriander, then add the black pepper and curry leaves.
Add the chicken pieces to the pan and coat thoroughly. Cook for 40 minutes on a low heat, turning the pieces occasionally until they are browned and cooked through.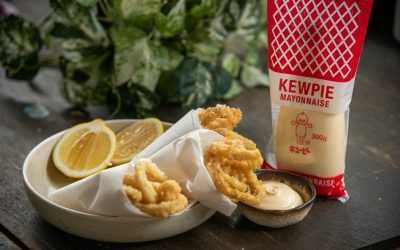 Ingredients: 1 tbsp sea salt flakes 1 tbsp cracked black pepper 8 cleaned squid tubes, thinly sliced Vegetable oil, for deep-frying 1 cup self-raising flour ½ cup mayonnaise Lemon wedges, to serve Method: Place the salt and pepper in a large bowl and mix to combine....