Bloody Mary Lamb Bruschetta
Ben O'Donoghue
1x 2 kg lamb shoulder, easy-carve or shoulder blade removed
12 prunes, pitted
2 large sprigs of rosemary, broken and leaves removed

2 tablespoons olive oil
100 g butter

1 onion, chopped
1 celery heart, chopped
2 garlic cloves, thinly sliced
2 fresh or dried bay leaves
2x 400g cans diced tomatoes

1 tablespoon sweet paprika

150 ml vodka
2 cups chicken stock or beef stock
To serve
1 loaf sourdough
2 garlic cloves, peeled
olive oil
2 tablespoons chopped flat-leaf parsley leaves

Zest of 1 lemon
Ssalt

Freshly ground black pepper
Preheat the oven to 160°C.
Make incisions in the lamb shoulder with a small knife and stuff with the prunes and rosemary. Heat the olive oil in a large pan over medium heat, and sear the shoulder on all sides. Set aside to rest.
Clean the pan and melt the butter. Add the onion and celery and cook over medium heat to soften. Add the garlic and bay leaves, followed by the tomatoes, paprika and vodka. Allow to cook for about 5 minutes.
Place the seared leg of lamb in the pan so you have a snug fit, then add the stock. Cover with a loosely fitted piece of baking paper. Place in the oven and cook for 2.5 – 3 hours, until the meat is well cooked and the sauce is thick.
Cut thick slices of sourdough and grill in a ridged pan on both sides. Rub with a clove of garlic and drizzle with good olive oil.
Allow the lamb to rest for at least 30 minutes, then break into chunks and arrange over the toast.
Chop the remaining clove of garlic, then dress the lamb with some sauce, parsley, lemon zest, chopped garlic, salt and pepper.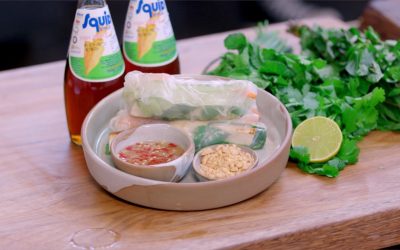 This recipe is brought to you by our friends at Asian InspirationsIngredients:Serves: 8 Prep Time: 10 mins Cook Time: 15 mins Main Ingredients: 1 packet rice paper 150g rice vermicelli noodles 1 bunch coriander 1 bunch Thai basil 1 bunch mint 1 bunch garlic chives 1⁄4...