Brioche French Toast with Bruleed Banana
Jacob Leung
Serves: 4
¼ cup Nutella
8 thick slices of brioche
3 eggs
¼ cup milk
1 vanilla bean, scraped
40g butter
2 lady finger bananas
2 Tablespoons caster sugar
160g unsalted butter
¼ cup pistachios, chopped
¼ cup maple syrup
Edible flowers to garnish
Ice cream to serve
Evenly spread the Nutella over 4 slices of the brioche. Top with the remaining slices of brioche.
In a mixing bowl whisk the eggs, milk and vanilla. Dip the brioche sandwiches in the egg mix and allow to soak for 2 minutes.
In a frypan over medium heat add butter. Once the butter has melted and starts to bubble add one brioche sandwich. Cook for approximately 2 minutes on each side. Repeat with the remaining sandwiches until all cooked.
While the french toast is cooking, slice the bananas lengthways with the skin on. Evenly sprinkle with caster sugar and, using a blow torch, brulee the top of each banana until the sugar melts and crystallizes. Alternatively place the bananas under a grill on high for 6 minutes.
To serve, place a piece of french toast on a serving plate alongside half a bruleed banana. Top with chopped pistachios, maple syrup, edible flowers and a scoop of vanilla ice-cream.
Our friends at Wine Selectors suggest pairing this dish with a Botyrtis Semillon.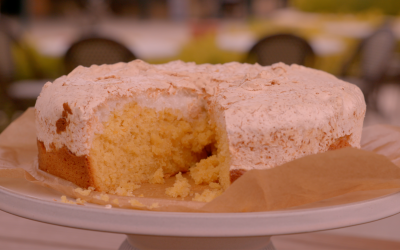 Ingredients:BASE 3 Egg Yolks 1/2 cup Caster Sugar 125g soft butter 2 cups Self-Raising flour 1 cup orange juice Vanilla   TOPPING 3 egg whites 1/2 cup caster sugar 1 cup desiccated coconut Method: Beat butter and sugar until creamy. Add yolks and vanilla. Fold in the...