Broccoli and Paneer Curry
Mike Reid
Recipe brought to you with the help of our friends at Velisha Farms
1 tbsp ghee, for frying
800g broccoli, cut into florets
225g paneer, cut into 2cm cubes
1 onion, thinly sliced
4cm ginger, peeled and grated
2 garlic cloves, grated
2 tsp curry powder
2 tsp ground turmeric
500g broad-leaf spinach, tough stalks removed
200g natural yoghurt
Salt
Heat a heavy-bottomed saucepan over a medium heat and pour in a teaspoon of the oil. Add the broccoli and sauté for 15–20 minutes, or until golden. Take your time and don't stir too much or you will create steam, which will hinder the colouring. Drain on kitchen paper.
Add another teaspoon of oil to the pan and fry the paneer until browned. Drain on kitchen paper.
Pour another teaspoon of oil into the pan and add the onion, ginger and garlic. Reduce the heat to medium-low and fry, stirring from time to time, for 10–15 minutes, or until softened. Add the curry powder and turmeric and cook, stirring, for 1 minute.
Return the broccoli to the pan and add 200ml/7floz water. Simmer for 2 minutes, or until tender. Add the paneer, then the spinach, and stir just until wilted.
Season with salt and serve with some dollops of yoghurt.
Our friends at Wine Selectors suggest pairing this dish with a Sauvignon Blanc Semillon blend.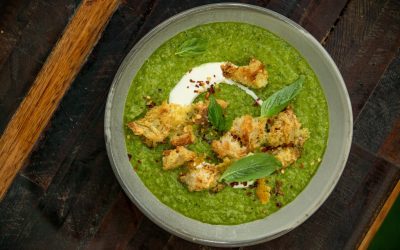 Ingredients: 2 heads broccoli 1 large leek, halved lengthwise, rinsed 2 tbsp extra virgin olive oil 1 head garlic, unpeeled 4 cups (1L) chicken or vegetable stock 120g baby spinach leaves 125g sour cream, plus extra to serve Chilli flakes & herbs, such as basil,...