Buckwheat Pancakes
Simone Austin
1 cup buckwheat flour
1 teaspoon baking powder
1 teaspoon baking soda
¼ teaspoon salt
200ml Glucerna liquid
½ cup water1 large egg
Butter, for the pan
Fresh sliced fruit to top the pancake e.g. strawberries, blueberries, kiwifruit, banana
Yoghurt, for topping the pancakes
In a medium mixing bowl, mix together the flour, baking powder, baking soda and salt. In another bowl beat the egg and mix in the Glucerna liquid.
Add the wet ingredients to the dry ingredients and mix until just combined. The batter may have some small to medium lumps.
Preheat the pan over medium-low heat and brush with 1 teaspoon of butter. Give the batter a light swirl with a spoon in case the buckwheat is starting to separate from the liquid. Scoop ¼ of the batter into the warm pan. Cook for 2 to 3 minutes until small bubbles form on the surface of the pancake and flip. Cook on the opposite sides for 1 to 2 minutes, or until golden brown.
Transfer the cooked pancake to a plate and top with fresh fruit and yoghurt.
For more details on Glucerna, go to glucerna.com.au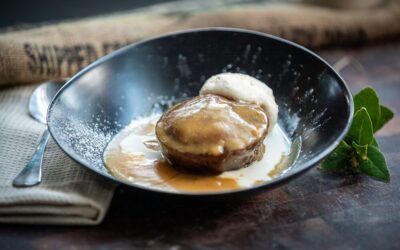 Ingredients: Makes 12 200g fresh or dried pitted dates, roughly chopped 300ml boiling water 1 teaspoon bicarbonate of soda (baking soda) 150g (2/3 cup) sugar 50g butter 2 eggs 1 teaspoon natural vanilla extract 170g plain (all-purpose) flour 2 teaspoons baking powder...