Burrata with Spring Onion Purée
Mike Reid
Recipe brought to you with the help of our friends at Velisha Farms
1 Burrata
2 Slices Sourdough toast
100g Fresh peas
25ml Early harvest olive oil
100ml Spring onion puree
Fresh mint to garnish
Spring Onion Puree:
70g Butter, Unsalted
10g Nasturtium Leaves
1 bunch Spring Onions
150g spinach baby
200g Ice
Pick the spring onions, spinach and add the nasturtiums.
Add the diced butter and water to a hot pan with the spring onions, spinach and nasturtium. Add a pinch of salt and cook for around 2 minutes. Once cooked add 200g ice
Drain, place in the vitamix and blend until smooth.
Serve with Burrata, fresh peas and mint. Add olive oil and eat alongside sourdough toast.
Our friends at Wine Selectors suggest pairing this dish with a Prosecco.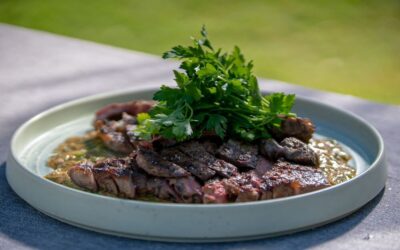 Ingredients: Serves: 2-4 2 x 250g T-bone or Rump steak Sea salt 2 Tbsp Olive oil 2 Tbsp Butter 1 brown onion, diced 2-3 cloves garlic, finely chopped 1 tsp dried chilli flakes 2 tsp dried mixed herbs 40 'twists' cracked black pepper 2 chicken stock cubes, crumbled 2-3...