Butter Chicken
Simone Austin
1 tablespoon of extra virgin olive oil
1kg chicken thigh fillets
1 brown onion
6 tablespoons of butter chicken paste
1 cup of water
400gm green fresh beans
½ punnet yellow cherry tomatoes
4 tablespoons tomato paste
6 scoops Ensure vanilla powder
3 tablespoons milk
Cut the chicken thigh fillets into cubes
Dice one brown onion finely
Tail the green beans if needed
Cut cherry tomatoes in half.
Add 1 tablespoon of extra virgin olive oil to a pan and heat. Fry the onion and chicken until lightly browned.
Add the tomato and butter chicken paste and stir through
Add 1 cup or so of water. Add the green beans and tomatoes and simmer for around 20minutes until cooked through.
In a cup mix 6 scoops of Ensure Vanilla powder with 3 tablespoons of milk to form a runny paste.
When the chicken is cooked through stir in the Ensure Vanilla powder mixture. Simmer on low for 5 minutes and then serve with cooked rice and freshly steamed broccoli or other greens on the side.
For more details on Ensure, go to ensure.com.au
This dish is an easy one to make in advance and to freeze for later. You can add in extra vegetables and swap out some meat if you like.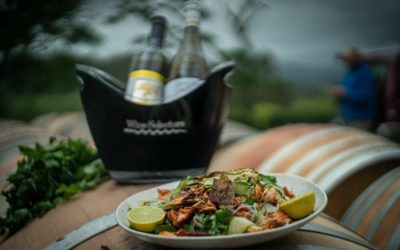 Ingredients: 100g glass noodles (bean thread vermicelli) 2 Lebanese cucumbers, thinly sliced using a vegetable peeler 4 spring onions, thinly sliced on diagonal 2 eschalots, thinly sliced 1 cup coriander sprigs 1 cup flat-leaf parsley sprigs 1-2 small red chillies,...