Buttermilk Brined Chicken
Ben O'Donoghue
Brine
500ml butter milk
1 onion
2 cloves garlic
1tbsp salt
1tsp cracked black pepper
Dressing
1 cup Sour cream
1 cup Buttermilk
2 tbsp chopped Chives
1 tbsp Dijon mustard
1 tbsp Honey
2 tbsp Apple cider vinegar
1 cup Extra Virgin Olive Oil
1 large brown onion diced
Iceberg Lettuce with Burnt Onion Dressing Salad
1 x iceberg lettuce
50gm Parmesan cheese
1 lemon
1 tbsp chopped dill
1 tbsp chopped chives
1 tbsp chopped tarragon
Brine
Place all the ingredients into a blender and pulse. Then marinade the chicken in this brine for 24 hrs
To grill the chicken, drain and pat the chicken dry and BBQ until cooked
If deep frying, take it straight from the brine into your spiced flour and deep fry until cooked
Dressing
Fry the diced onions in ¼ of the olive oil until they start to burn or darken then drain and cool. Discard the oil.
Combine the buttermilk and sour cream.
In a clean bowl combine the mustard, honey, and vinegar and whisk the remaining olive oil into the vinegar mixture making a emulsified dressing. Then add the buttermilk and sour cream. Season with salt and pepper and fold in the cold fried onions.
Iceberg Lettuce with Burnt Onion Dressing Salad
Cut the washed iceberg lettuce into wedges about eight. Dress with a good squeeze of lemon juice. Arrange on your please and dress well with your burnt onion dressing.
Finely grate Parmesan cheese over each and sprinkle with the chopped herbs. Serve each with a BBQ or fried chicken thigh.
For chef quality results, we recommend using Anolon cookware!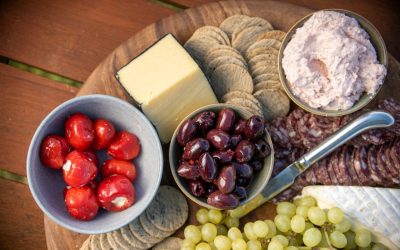 Ingredients: Hard Cheese Soft Cheese Blue Cheese 1 baguette  A bunch of Green Grapes Honeycomb Salami (sliced) Smoked Salmon Dip Artisan Crackers Beetroot dip Poppy Seed Skordalia Dip Dukkah Stuffed Bell Peppers Marinated Olives (pitted) Method: There are no rules or...