500g ricotta cheese
250g frozen spinach, thawed, excess water removed
2 1⁄2 cups passata
Pinch of nutmeg
1 egg
2 tbsp parsley, chopped
4 tbsp parmesan cheese
1 cup grated tasty cheese
1⁄2 cup mozzarella cheese
Zest from 1 lemon
3⁄4 cup vanilla
Ensure powder
12 cannelloni tubes
Salt and pepper to taste
Preheat oven to 180°C.
Pour 1⁄2 cup passata to base of ovenproof dish and spread evenly over base.
Place ricotta cheese, spinach, nutmeg, egg, parsley, basil, lemon zest, 2 tbsp parmesan cheese, Ensure powder and salt and pepper in a large mixing bowl and combine well.
Add ricotta mixture to a piping bag and carefully pipe into cannelloni tubes. Lay tubes side by side in the dish.
Add remaining passata over cannelloni tubes and top with tasty cheese, mozzarella cheese and remaining parmesan cheese. Bake for 35 minutes.
Serve with garden salad.
For more details on Ensure, go to ensure.com.au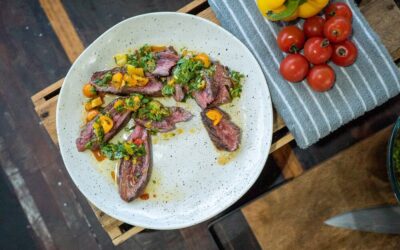 Ingredients: Serves: 4 800g Hanger Steak Sea Salt 1 small yellow pepper, seeds removed, roughly chopped 6 Yellow baby Tomatoes 1 small red chilli, seeds removed ½ tsp dried flaked chillies 2 Garlic cloves, peeled 20g fresh parsley, including any tender stalks 10g each...