500g ricotta cheese
250g frozen spinach, thawed, excess water removed
2 1⁄2 cups passata
Pinch of nutmeg
1 egg
2 tbsp parsley, chopped
4 tbsp parmesan cheese
1 cup grated tasty cheese
1⁄2 cup mozzarella cheese
Zest from 1 lemon
3⁄4 cup vanilla
Ensure powder
12 cannelloni tubes
Salt and pepper to taste
Preheat oven to 180°C.
Pour 1⁄2 cup passata to base of ovenproof dish and spread evenly over base.
Place ricotta cheese, spinach, nutmeg, egg, parsley, basil, lemon zest, 2 tbsp parmesan cheese, Ensure powder and salt and pepper in a large mixing bowl and combine well.
Add ricotta mixture to a piping bag and carefully pipe into cannelloni tubes. Lay tubes side by side in the dish.
Add remaining passata over cannelloni tubes and top with tasty cheese, mozzarella cheese and remaining parmesan cheese. Bake for 35 minutes.
Serve with garden salad.
For more details on Ensure, go to ensure.com.au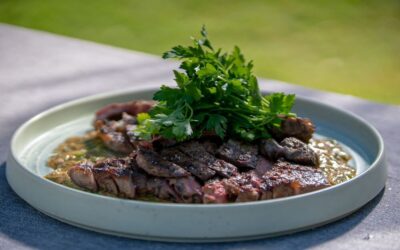 Ingredients: Serves: 2-4 2 x 250g T-bone or Rump steak Sea salt 2 Tbsp Olive oil 2 Tbsp Butter 1 brown onion, diced 2-3 cloves garlic, finely chopped 1 tsp dried chilli flakes 2 tsp dried mixed herbs 40 'twists' cracked black pepper 2 chicken stock cubes, crumbled 2-3...