Pastry
340g plain flour
80g lard
70g icing sugar
125ml marsala
2 yolks
1 whole egg
Custard
3 yolks
100g caster sugar
100g cornflour
1l warm milk
Vanilla
Cooking and Serving
Canola oil, for frying
Icing sugar, for dusting
For the pastry, mix the flour and lard together in a large mixing bowl, then add all the other ingredients and form the dough. Alternatively (if using butter), combine the flour and butter in a food processor until they resemble breadcrumbs, then add the remaining ingredients to form a dough. Cover with plastic wrap and rest for 1 hour.
Set up a pasta machine, divide the dough into four portions and roll each through the machine, adjusting the settings until the dough is 1 mm thick.
Lay the sheets on a lightly floured surface and cut circle shapes (by hand) to 10 cm in diameter. Brush the edges with the beaten egg and wrap over a cannoli mould.
Pour canola oil into a small saucepan until it's one-third full and place over a medium–high heat until the oil is 180°C. Drop a small piece of dough into the hot oil to test if it's ready – if it turns a golden colour straight away, the oil is hot enough. Deep-fry each cannoli for 30 seconds. Drain on a paper towel and remove the moulds.
Custard
For the custard, whisk the egg yolks and sugar in a bowl until thick and pale. Add the cornflour and a dash of milk and continue mixing until well combined, then add the remaining milk.
Add the vanilla bean and seeds to the mixture, pour it into a medium saucepan and cook over a low–medium heat, stirring constantly until the mixture thickens and starts to boil, about 5 minutes. Reduce the heat and simmer for a further 5 minutes. Once the custard has cooked, remove the vanilla bean.
Cool the custard. Once cooled, pour into a piping bag with a 2 cm nozzle and pipe into the cannoli shells. Dust with icing sugar and serve.
Our friends at Wine Selectors suggest pairing this dish with a Botrytis Viognier.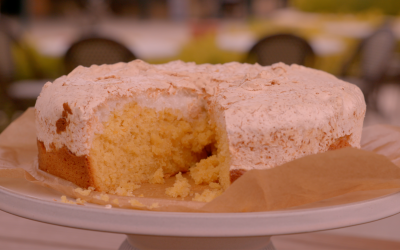 Ingredients:BASE 3 Egg Yolks 1/2 cup Caster Sugar 125g soft butter 2 cups Self-Raising flour 1 cup orange juice Vanilla   TOPPING 3 egg whites 1/2 cup caster sugar 1 cup desiccated coconut Method: Beat butter and sugar until creamy. Add yolks and vanilla. Fold in the...