Caramelised Onion Relish
Elena Duggan
Caramelised Onion Relish
500g onions, finely sliced
50g Butter
50g EVOO
15g Vegetable stock powder
25g-50g Xylitol
150g-250g Water
In a medium non-stick fry pan, melt butter and oil and fry onions, xylitol, and stock powder.
Once onions are starting to stir translucent, add water to hydrate stock and dried ingredients.
Simmer on low while stirring occasionally until almost all liquid has evaporated.
Season to taste.
Allow onion mix to cool completely.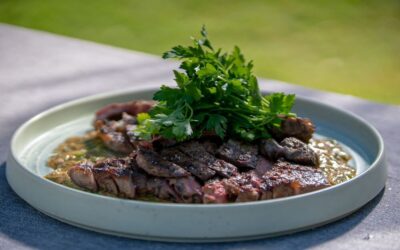 Ingredients: Serves: 2-4 2 x 250g T-bone or Rump steak Sea salt 2 Tbsp Olive oil 2 Tbsp Butter 1 brown onion, diced 2-3 cloves garlic, finely chopped 1 tsp dried chilli flakes 2 tsp dried mixed herbs 40 'twists' cracked black pepper 2 chicken stock cubes, crumbled 2-3...