Cauliflower & Brussel Sprouts
Khanh Ong
1 head Cauliflower, cut into florets
6 brussell sprouts, halved
salt to taste
To make Lebanese Gremolata:
1 bunch Coriander, finely chopped
1/4 cup Walnuts, finely chopped
1 red birdseye chilli, finely chopped
1/4 red capsicum, finely diced
1 medium clove garlic, finely chopped
1 lemon, juiced
3-4 tbs Extra Virgin Olive Oil
Salt to taste
Tahini Sauce
1/2 cup Tahini
1/2 cup Greek style yoghurt (or soy yoghurt for vegan version)
2 lemons, juiced
1/3-1/2 cup water
2 cloves garlic, minced
Salt to taste
Dry toasted pine nuts (optional)
Heat canola/vegetable/rice bran oil in a fryer to 170 degrees. Fry cauliflower and brussel sprouts in batches until golden brown. remove from oil and drain on paper towel. Set aside until needed.
Meanwhile, to make gremolata, mix all the ingredients together. Adjust seasoning as required.
To make tahini sauce, mix all ingredients together except the water. once well combined, add water a little at a time until desired consistency is achieved. You want a thick sauce that is smooth on the palate.
To assemble, cauliflower and brussel sprouts, start with the sauce at the base, add the cauliflower and brussel sprouts in the middle in a pile. Sprinkle with gremolata and toasted pine nuts (optional).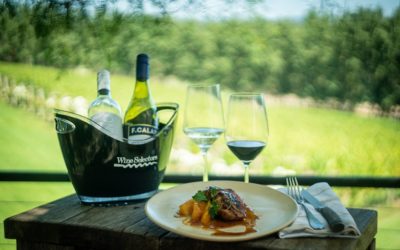 Ingredients: 4 duck breast 1 tablspoon brown sugar ½ tablespoon salt ¼ bunch thyme 1 tsp five spice butter garlic Sauce 1/3 cup sugar 1/3 cup fresh orange juice (from 1 to 2 oranges) segments of one orange 2 tablespoons white-wine vinegar 1/8 teaspoon salt 2 to 4...