Charred Corn on the Cob
Khanh Ong
4 corn on the cob with husk
3 tsp spring onion oil (mix equal parts spring onion and grapeseed oil over low heat for 10 minutes)
2 tbsp of nutritional yeast
pinches of salt
Garnish:
Peel the husk of the corn back and tie using husk.
Place on charcoal grill for 2 minutes on all 4 sides
Remove and top with spring onion oil, nutritional yeast and salt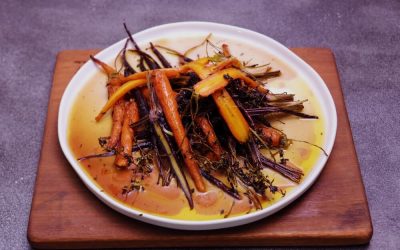 Join Elena Duggan as she creates her Honey Herbed Carrots recipe. Tune in to The Market kitchen each weekday on Channel 10.