Charred Octopus
Khanh Ong
300g tenderised octopus tentacle
1 garlic clove minced
1 tsp onion powder
1 tsp smoked paprika juice and zest of
1 lemon
1 tbsp EVOO
a pinch of salt
Crispy Capers
1⁄4 cup of strained capers 1⁄2 cup EVOO
a pinch of salt
To Serve:
1 tbsp of EVOO
Juice and zest of 1 lemon
1⁄4 bunch of parsley leaves chopped
1 tsp of smoked paprika a pinch of salt
Place all the ingredients in a ziploc bag and mix well and leave to marinate 15 minutes.
heat a large griddle pan on medium and place the octopus on until its is nice and charred about 3-5 minutes on each side.
set aside for slicing.
Crispy Capers:
cook the capers in the EVOO in a small saucepan on high heat until brown and puffed open.
strain onto a plate with paper towel to soak up extra EVOO and cover with salt.
To Serve:
Slice the octopus and place around a plate
dress with EVOO, lemon juice and zest and Parsley.
Cover with capers and then top with paprika and salt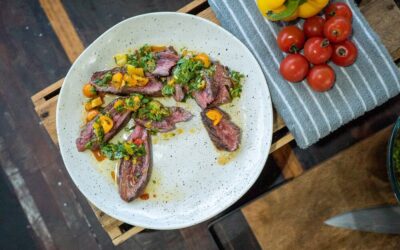 Ingredients: Serves: 4 800g Hanger Steak Sea Salt 1 small yellow pepper, seeds removed, roughly chopped 6 Yellow baby Tomatoes 1 small red chilli, seeds removed ½ tsp dried flaked chillies 2 Garlic cloves, peeled 20g fresh parsley, including any tender stalks 10g each...