Cheeky Sweet-Sour Pork
Chef Leslie Chan
Recipe brought to you with the help of our friends at Asian Inspirations
Serves: 4
200g Pork loin (cut into 2cmx2cm cube)
30g Red onion (dice in cube)
30g Nectarine (dice in cube)
30g Green apple Granny smith (dice in cube)
30g Fresh Pineapple (dice in cube)
30g Red capsicum (dice in cube)
30g Green capsicum (dice in cube)
10g Spring onion (dice in cube)
150g Chinese donut stick (dice in cube)
Marinate:
1⁄2 tsp Yeo's Pure Sesame Oil
1⁄2 tsp ABC Sweet Soy Sauce
1⁄2 tsp Potato starch
1⁄2 tsp Chicken powder
1⁄4 tsp Custard powder
1⁄4 tsp Sugar
Pinch Salt
2 each Egg
1 tbsp Water
Chinese Donut:
50g Chinese cooked donut
100g Prawn meat
Sauce:
30ml Water
20g Sugar
20g ABC Sweet Soy Sauce
25ml Worcestershire sauce
120g White vinegar
120g Peen Tong (Chinese brown sugar)
80g Tomato sauce
Few drops Food coloring (orange colour)
To Prep:
Dice all the fruits and vegetables into cue and set aside.
Combine all marinate ingredients and mix well with pork loin, keep in the fridge for 30 mins.
Then coat pork loin with potato starch, deep fry in oil with 180 degree for 5 mins or till golden in
colour, set aside.
Cut the Chinese cooked donut into 2 cm long, hand chop all the prawn meat by knife into mince mixture, season with salt and pepper, stuff the prawn mince into Chinese cooked donut.
Deep fry the Chinese donut mixture in oil at 160 degrees for 3-4 mins or till golden in colour. Set aside.
Mix all the sauce ingredients and set aside.
To Cook:
Heat up the wok, add red onion, red capsicum, green capsicum, cook for 1 min.
Add sauce in and cook for 30 secs in high heat. Adjust the consistency with potato starch.
Add apple, pineapple, nectarine, cooked pork and Chinese cannelloni. Toss well.
Garnish with spring onion and sesame seed. Serve with this cheeky sweet sour pork on a plate.
Our friends at Wine Selectors suggest pairing this dish with a Rose.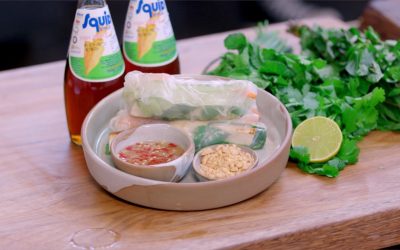 This recipe is brought to you by our friends at Asian InspirationsIngredients:Serves: 8 Prep Time: 10 mins Cook Time: 15 mins Main Ingredients: 1 packet rice paper 150g rice vermicelli noodles 1 bunch coriander 1 bunch Thai basil 1 bunch mint 1 bunch garlic chives 1⁄4...