Cheese and Tomato Toastie 3 Ways
Elena Duggan
Cheese and Tomato Toastie No. 1
Herbed sundried tomato cream cheese
Large heirloom tomatoes, thick slices
Quick-pickled red onions
Capers, drained
Black pepper, to taste
Salt, to taste
Crusty sourdough, thick slices
Cheese and Tomato Toastie No. 2
Caramelised onion relish
Blistered cherry tomatoes, squished
Aged cheddar, finely sliced
Buffalo mozzarella, torn into pieces
Pecorino, finely grated
Black pepper, to taste
Salt, to taste
Homemade bread
Cheese and Tomato Toastie No. 3
Pine nut and confit garlic butter
Truss tomatoes, finely diced
Lemon, finely zested
Parmesan, finely grated, generous
Fresh herbs, thyme, oregano and basil, leaves only
EVOO, to taste
Black pepper, to taste
Salt, to taste
Turkish bread, lightly toasted
Sundried Tomato Cream Cheese
100g Sundried tomato strips in oil, loosely drained but not dry
10-15g Italian herbs, dried
250g Block cream cheese
Pickled Onions
200g / 1lge Red onion, finely sliced
100g Red wine vinegar
50g Xylitol
Salt, to taste
White pepper, to taste
Caramelised Onion Relish
500g onions, finely sliced
50g Butter
50g EVOO
15g Vegetable stock powder
25g-50g Xylitol
150g-250g Water
Blistered Cherry Tomatoes
500g Cherry tomatoes
50g EVOO
Salt, to taste
Black pepper, to taste
Pine Nut Garlic Butter
250g Pine nuts, soaked in water overnight, thoroughly drained
100g Confit garlic cloves
EVOO to taste, for desired texture
Salt, to taste
White pepper, to taste
Prepare toppings ahead of time.
Layer them on recommended or personal choice of bread.
Cheese and Tomato Toastie No. 1
Serve after pan fry and open grill
Cheese and Tomato Toastie No. 2
Serve after closed and pan fried both sides.
Cheese and Tomato Toastie No. 3
Serve open on toast
1 Minute Recipes For Toasties
Sundried Tomato Cream Cheese
Blitz thoroughly, place in an airtight container
Pickled Onions
Mix all ingredients except onion in a small bowl until dissolved. Thoroughly immerse onions and set aside until softened. Squeeze onions to drain before use.
Caramelised Onion Relish
In a medium non-stick fry pan, melt butter and oil and fry onions, xylitol, and stock powder.
Once onions are starting to stir translucent, add water to hydrate stock and dried ingredients.
Simmer on low whilst stirring occasionally until almost all liquid has evaporated.
Season to taste. Allow onion mix to cool completely.
Blistered Cherry Tomatoes
In a non-stick fry pan over high heat, fry the tomatoes with EVOO, salt and pepper until skin is starting to char.
Keep moving so tomatoes are heated all the way through, evenly.
Remove from heat and gently flatten the tomatoes, set aside for use.
Pine Nut Garlic Butter
In a high speed food processor or blender, blitz pine nuts until smooth and creamy, add confit garlic and blitz until completely incorporated.
Adjust seasoning and consistency with EVOO, salt and pepper. Keep in an airtight jar for up to a week.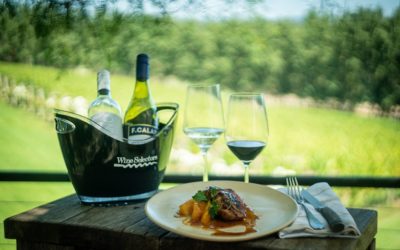 Ingredients: 4 duck breast 1 tablspoon brown sugar ½ tablespoon salt ¼ bunch thyme 1 tsp five spice butter garlic Sauce 1/3 cup sugar 1/3 cup fresh orange juice (from 1 to 2 oranges) segments of one orange 2 tablespoons white-wine vinegar 1/8 teaspoon salt 2 to 4...