Cheesy Cauliflower Bake
Joel Ferren
1 head of cauliflower
2 tbsp plain flour
50g butter
2 cups milk
1⁄2 cup Vanilla Ensure powder
1 tbsp fresh thyme
2 tbsp parsley, roughly chopped
1 cup grated tasty cheese
2 tbsp parmesan cheese
Salt and pepper to season
Preheat oven to 180° C.
In a large pot of salted boiling water, cook cauliflower until tender, 6-8 minutes. Drain well.
Heat butter in a pot over medium heat and once melted add flour and stir for 1-2 minutes.
Remove pot from heat and slowly add milk, stirring continuously to prevent lumps from forming.
Return pot to medium heat. Cook and stir for 5 minutes or until sauce thickens.
Stir in grated tasty cheese and parmesan cheese and stir until smooth.
Remove pot from heat and add Ensure powder herbs and salt and pepper, stirring regularly to avoid lumps.
Add cauliflower to a baking dish and pour sauce on top. Mix well to combine.
Bake in oven for 25 minutes or until golden brown.
Allow to cool and serve.
For more details on Ensure, go to ensure.com.au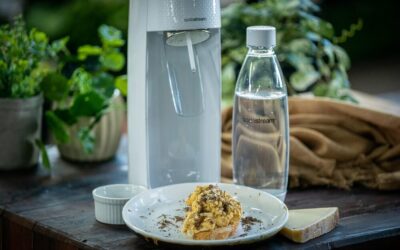 Ingredients: Serves 4 12 eggs, best quality you can afford 150ml sparkling water 2 tablespoons freshly grated parmesan Sea salt and freshly cracked pepper 20g butter 4 thick slices of sourdough, toasted/charred Method: Mix together the eggs, sparkling water, parmesan...