Cherry Clafoutis with Port Reduction
Ben O'Donoghue
Serves 4
​​500g cherries
​​4 eggs
​​100g flour
​​100g granulated sugar
​​300ml milk
​​1 vanilla bean
​​30g butter
​​1 pinch of salt
Wash, wipe, de-stalk and stone the cherries. Butter a spring form pan then pour in the prepared cherries. In a mixing bowl, add the eggs, then little by little the flour and the sugar. Mix everything together then add the milk and the vanilla bean, as well as a pinch of salt to bring out the flavors.
Pour the mixture over the cherries then preheat the oven to 180°C. When hot, place the clafoutis in the oven and leave to cook for 30 minutes.
Reduction of port and crème fraiche to serve
A cherry clafoutis is even tastier if it's served after being left to cool slightly. And for the gourmets among you, it will only be more delicious served with a scoop of pistachio ice cream!
Our friends at Wine Selectors suggest pairing this dish with a Rutherglen Estates Tempranillo 2017 or Morris V.P. 750ml Vintage Fortified 2007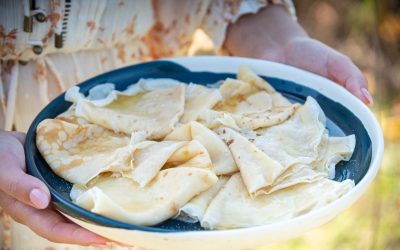 Ingredients: 2 eggs 200g Flour 2 tbsp Caster Sugar 200ml Milk Butter Lemon Juice Honey Method: In a large mixing bowl add your flour eggs and sugar and then slowly pour in your milk bit by bit while whisking to avoid any lumps. Keep whisking until the batter has come...