Chicken Biryani
Mike Reid
Serves: 4
500 Diced chicken thigh

800g cherry tomatoes

8 large garlic cloves, peeled

4 banana shallots, peeled and diced

25g coriander, plus 10g from serving

6 sprigs of fresh thyme

4 Small cinnamon sticks

1 tbsp turmeric

1 tbsp cumin

1tsp chilli powder (optional)

1 tsp ginger

100ml Olive oil

600g Basmati rice

600ml Chicken stock

100g Green Peas
Preheat your oven to 160 degrees
Add your olive oil, chicken, onion, garlic, thyme, cinnamon and tomatoes to a roasting tray
and cover with foil. Roast in the oven for 45 minutes.
Take out of the oven and discard foil. Sprinkle over the rice and set aside. Increase the oven
to 220 degrees
Add the rest of your ingredients with a good pinch of salt and pepper. Bake in oven for 20 minutes. Remove from the oven and leave to rest for 10 minutes still covered before adding the coriander for garnish and green peas.
Our friends at Wine Selectors suggest pairing this dish with a Gamay.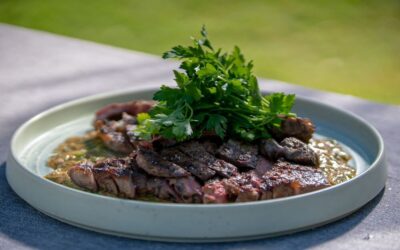 Ingredients: Serves: 2-4 2 x 250g T-bone or Rump steak Sea salt 2 Tbsp Olive oil 2 Tbsp Butter 1 brown onion, diced 2-3 cloves garlic, finely chopped 1 tsp dried chilli flakes 2 tsp dried mixed herbs 40 'twists' cracked black pepper 2 chicken stock cubes, crumbled 2-3...